The North Coast Narrow Gaugers is a small group of Model Railroaders and Craftsman in Sonoma County, California. We are dedicated to the operation & enjoyment as well as the promotion of the Model Railroading Hobby. Our award winning HOn3 modular layout provides an environment which is both fun and enjoyable and helps us to strive to set the benchmark in HOn3 Modular Railroading

---
On30 News - Hah, there is none, this is an HOn3 group

---
Feature Article - The NCNG was proud to sponsor the HOn3 Symposium and looks forward to the next venue to support Northern California Narrow Gauge Modelling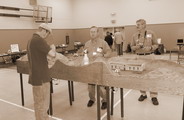 ---

Home Layout News -
Summer 2012: Not much has happened in the depot for the last year. Live Steam, and local clubs have taken most of our time. He have been working on one of the new modules for the NCNG, Dolores" - Superintendent Dave Sheber
---
ICE LAKES -
One of the newer modules has been a real hit with it ice house and small town, 2 months to build, we "threw" it together in the fall of 2010. Ice Lakes

Exclusive Interview - The Truth about Red(blue) Mountain
Sept 2004: Workers at the Red Mountain mine module were finally allowed to talk about the damage that BEFELL upon them that would ultimately lead to the town changing it's name to Blue Mesa Foam Co.
More details later as the Company's CEO picks up the pieces...

---
The Club's modules -

Alpine Tunnel, CO

8' + corner
El Modelo, NM, 4'
Dolores, CO, 8'
Rio Suerte,CO, 6'
Las Pulgas, NM 8'
Fraser, CA corner
Labato Trestle, NM corner
Ice Lakes, CO Corner
Leadville, CO R-loop
Pine Butte, Freelance R-loop
Valley Ford, CA 4'
Wasache, CO 12' yard

The club generally sets up about 8-10 modules for a show. With 2 Reverse loops in the club, we can set up either a point to point or a large loop with the older set-up.
---
New Shay arrives
Nov 2006: An HOn3 PFM Mich-Cal #2, the Deuce, has been purchased and will arrive at the Las Pulgas Mortuary and Cemetery Company later this year. This could be the start of something big....
---

Leadville's new Depot under construction:
June 2006: Leadville, the module, will have a new Depot and freight station soon as construction is well under way. The depot is finished and functional, but the passenger platform is still being built and so passengers should expect to get wet during rainstorms if arriving early. Please be late..

---

The King Delta & Valley Junction Railroad is well under way and is proud to host this website for the N.C.N.G.


The KD&VJ R.R. Co. is a small port to the northern Sierra's layout located in Northern Sonoma County
More details...


---
Technology News -
The NCNG is a full DCC run modular layout using a Digitrax Radio Chief. The Soundtraxx Tsunami provides the decoder solution for us.

Turnouts - Most of our existing turnouts were Shinohara code 70. Now all our new ones are Quality Handmade Turnouts by Railway Engineering and Steve Hatch...


New C-19's are are stunning
The Blackstone engine shops have released their new C-19's which is great for most modules as new motive power combined with the much touted K-27's means new revenue. Have you seen some of the older stuff we run around here.

However, with the amount of traffic we run with the wonderfully reliable K's & C's, the engineers & dispatchers on the NCNG are shaking their heads as to where in the world will the extra motive power fit and run....
---
Links -
Railway Engineering


---
To join us -
We might be a small group, but we are always open to new members who also share our passion and dedication to HOn3
Please email us for more info about joining.