Homepage
HOn3 Wharf Layout
General Store

Railroad Library

Railroad Sounds:
Just place your mouse over the trains for sounds, no need to click(IE users Only)

CLUBS
NCNG Our Club
LAYOUTS AND MORE
NMRA Old School
Zane's Piermont WOW
WT&W WOW

TECHNIQUES & RESOURCES
Dan's Depot Anime Gifs
Fantasonics Best sound
N&PC Barmills is inspiration




Member website of the
Sheberclan
Webmaster Dizzy
So here we have a few shots of the finished product. Mainly, after the foam was shaped and filled in, we color the base with and earth colored latex paint. Then while the paint is still wet, we shake on a good earth colored ground foam. I have found the products from Scenic Express to be superior in both application as well as color. Then you just scenic the module as you would your own layout. It has been a long time since I did this so I am not familiar with the exact lineage of events in building this module, and I have no more good stages photos so again, I will leave you with the finished product
June 10th, Day of the Show
That is a Chooch Depot and instead of building it complete with the corrugated roof, for time, I built the platform "Under Construction"
And yes, there is no bridge there, picky picky picky. I have to tweak and finish the module before it next showing.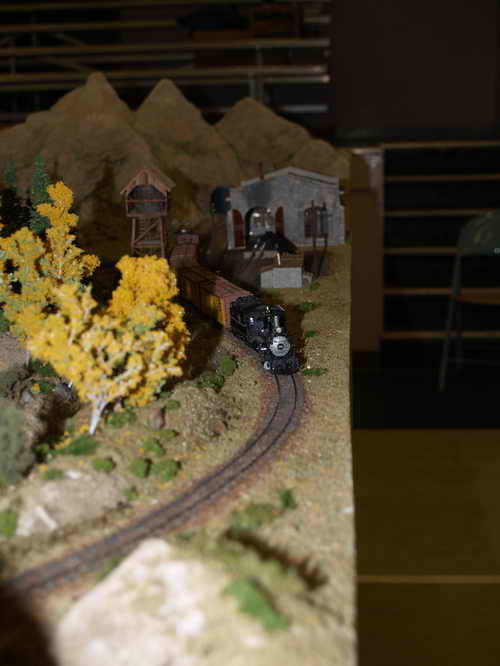 My wife and daughters now FAMOUS cornfield below. I swear, they think they are stars now or something. I mean, you give them a picture in a magazine and suddenly I have to make appointments with their agents to see them.
They really had a great time building this cornfield, it is the Busch cornrows kit, and instead of doing it the easy way like the instructions state, they planted each and every stalk individually. Cutting each corn stalk, grabbing it with tweezers and stabbing it in the ground. I could have planted a real farm and had a harvest faster than them. Oh and they hand painted each tassel and ear by hand.